RAMBO – Africa Market Popular Daily Chemical Insecticide Spray
This product is a multifunctional insecticide made with alcohol-based as the solvent, which can instantly kill all flying and crawling insects. It is suitable for pest control in daily life, so that you will be far away from any disease caused by pests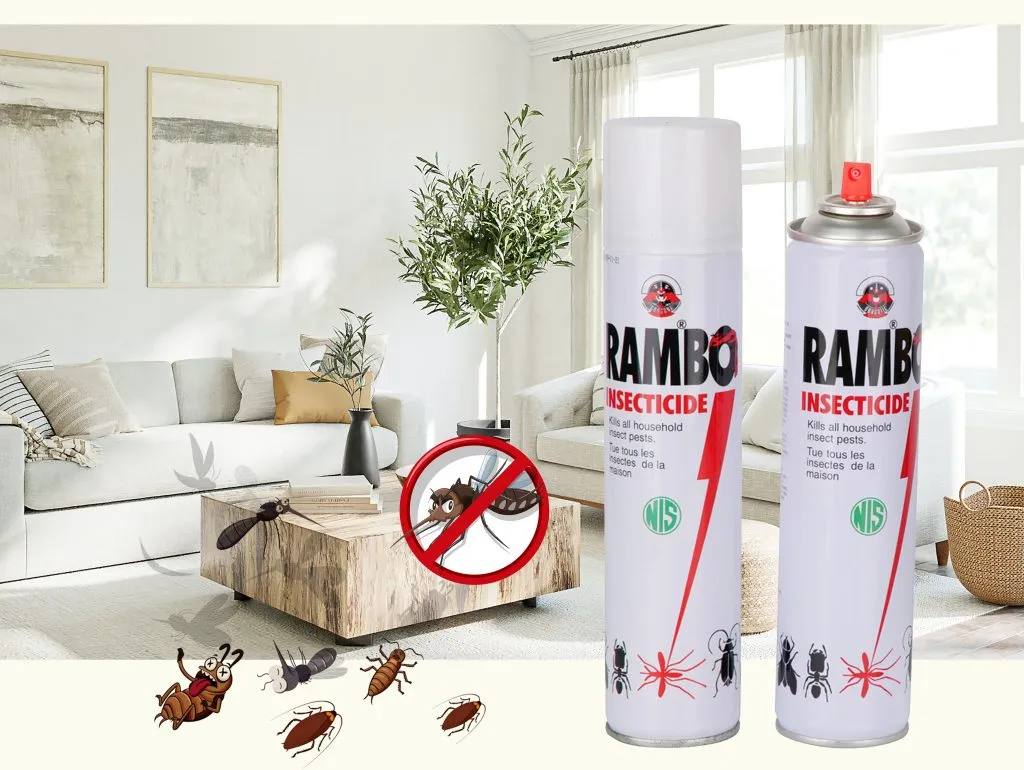 Why Are We Your Best Choice?
We have rich experience in manufacturing and exporting insecticide spray, as well as helping a lot of customers capture their market very well with our good quality product under serious quality control and constantly upgrading ingredients.
Aerosol Insecticide Household insecticide sprays are applied as liquids aerosol. They are packed in the gas mist tank or trigger pump sprayer. It is quite easy to use and become common in the market. Generally speaking, sprays could be residual or non-residual depending on which kind of solvent they are made of. We make it more effective at controlling exposed insects in the residence. Please contact us to know more.
Insecticide Sprays are typically formulated to kill after contact and offer targeted application.
Protect You From Disease Caused by Insect
In our daily life, mosquitoes and cockroaches are the most common household insects. Mosquito bites may cause malaria, , dengue fever, etc. Cockroaches can transmit parasitic diseases such as tapeworm disease, hookworm disease, and ascariasis.
Packing &Transportation Caution
Do not heat this product in a fire or put it in a gas stove or heating film.
Do not pierce the tank with the sharp hard object itself, and do not run out of the burning tank.
Do not place any place where the temperature is above 50℃.
Using Guideline
1. Keep the door and window closed before spraying
2. Spray on the place away from the human body or food, but focus on the place where the insect stays.
3. For lasting effects, keep door and window closed for at least 10 minutes
4. Leave after spraying.
Your Best Supplier In China
DRAM FINE came into existence in 2004, our factory is located in Shanwei City, China's first batch of special economic zones and our office settles in Guangzhou city to welcome people from all around the world. With a team of professionals with rich experience in techniques and sales of chemical products, we have been a leading manufacturer and supplier of household daily chemical products. Over the years, we grew steadily with the support of old and new customers from all over the world. In this process, we place the highest priority on product quality.  Our raw materials were produced from well-reputed and certified vendors of the industry. we strictly control quality at every step and constantly improve our production capacity to ensure their highest quality and long-term cooperation relationship. We are committed to giving your family products you can trust. Now we stand proud as a reliable and trusted supplier for the African market.