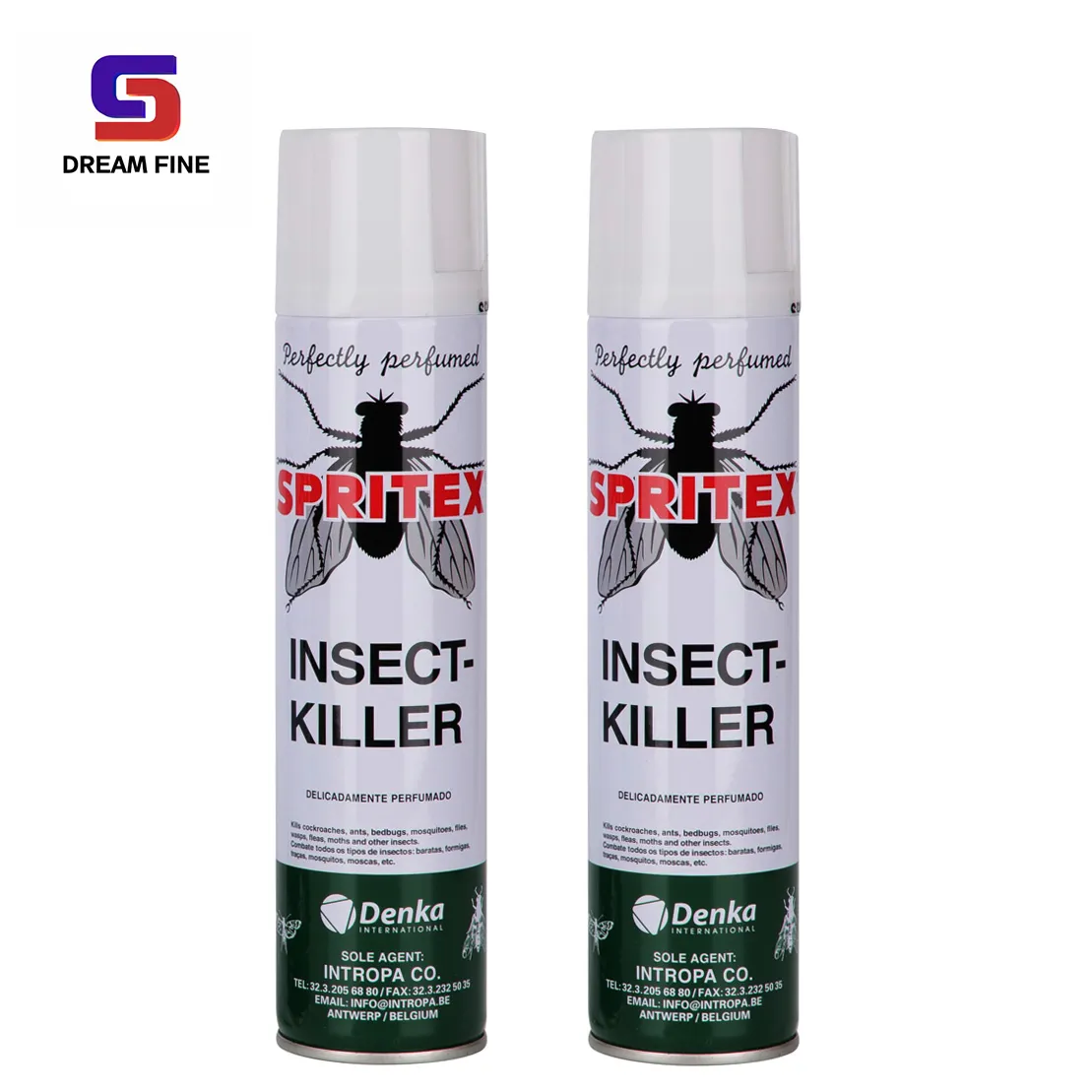 SPRITEX – Household Fast Pest Repellent Effective Formula Insect Killer Spray Insecticide
It is a powerful and fast household pest control spray against mosquito, cockroach, bedbug, spider, ant and other insects with eco-friendly high-graded raw material. You deserve it.
Multi Insect Killer
It helps to kill flies, mosquitoes, small flying moths, gnats, fruit flies, roaches, fleas, roaches, water bugs, firebrats, crickets, ants, spiders, centipedes, and millipedes.
How Does Insecticide Spray Work?
Insecticide is a pyrethroid chemical product. Pyrethroid is recognized as safe in the world. Its toxicity to pests mainly affects the central nervous system of pests, interferes with their normal physiological activities, makes them directly enter a state of paralysis, and eventually leads to their death. It helps prevent the spread of diseases brought by these insects.
How To Kill Flying & Crawling Insects?
After contact with the epidermis or appendage, it will penetrate into the insect body, corrode the waxy layer of the insect body, or kill the insect by blocking the valve
Using Guideline :
Spray after shaking the bottle and keep spraying for 4-6 seconds.
Spray directly to flying or crawling insects.
Keep door and window closed for 10-15 minutes after spraying.
Wash hands after use
What's Insecticide Spray?
It is a practical general preparation that can deal with all pests and insects in the household. It is an effective family pest control measure. This spray can help solve serious pest invasions of the family and can drive away all insects for a long time After contacting the active ingredients, it takes effect in killing pests immediately. It can be applied to wood, interior decoration, and indoors without any residue. Our insecticide spray is widely used in killing flying& crawling insects like Mosquitoes, Bed Bugs, and Cockroaches without any pungent smell. It is a powerful and fast insect killer way, suitable for households, churches, hotels, offices, schools, etc. Using alcohol-based solvent and pyrethrin as the active ingredient, our insecticide is a non-residual insecticide and quite effective. They are applied as a space spray (fog) to control exposed flying and crawling insects, and they may be used directly on individual pests as a contact treatment.
Your Best Supplier In China
DRAM FINE came into existence in 2004, our factory is located in Shanwei City, China's first batch of special economic zones and our office settles in Guangzhou city to welcome people from all around the world. With a team of professionals with rich experience in techniques and sales of chemical products, we have been a leading manufacturer and supplier of household daily chemical products. Over the years, we grew steadily with the support of old and new customers from all over the world. In this process, we place the highest priority on product quality.  Our raw materials were produced from well-reputed and certified vendors of the industry. we strictly control quality at every step and constantly improve our production capacity to ensure their highest quality and long-term cooperation relationship. We are committed to giving your family products you can trust. Now we stand proud as a reliable and trusted supplier for the African market.