EASY ON Spray Starch Ironing Aid Wrinkle Removal Linen Crisp Spray
A professional clothes care spray starch which help to keep your clothes look fresh every day. West Africa hot sale EASY ON wrinkle removal speed starch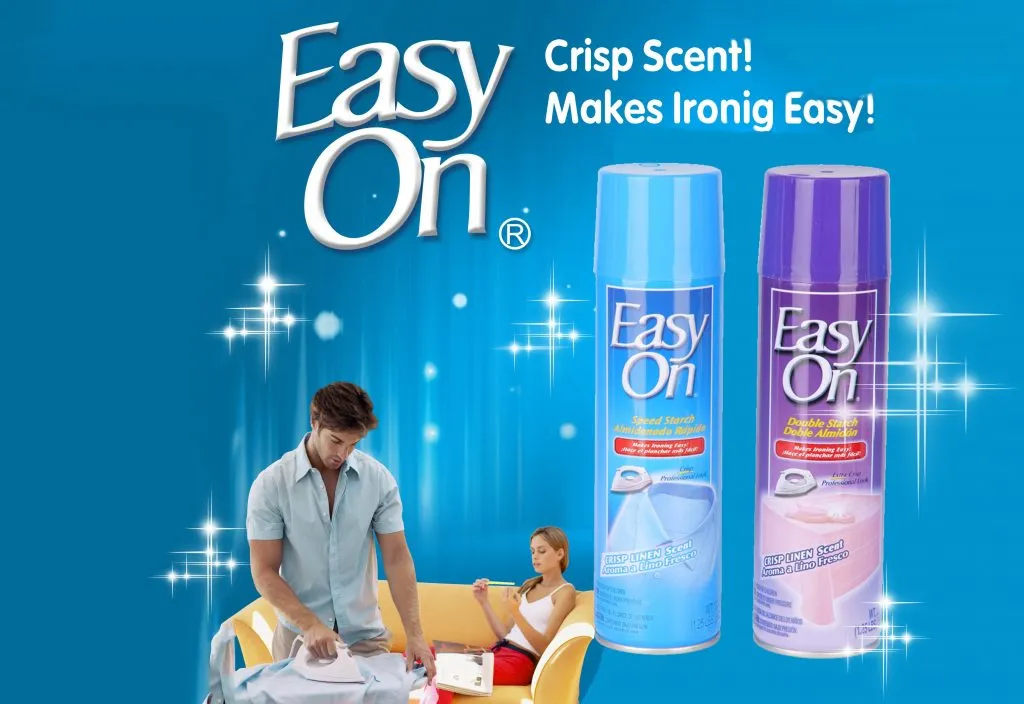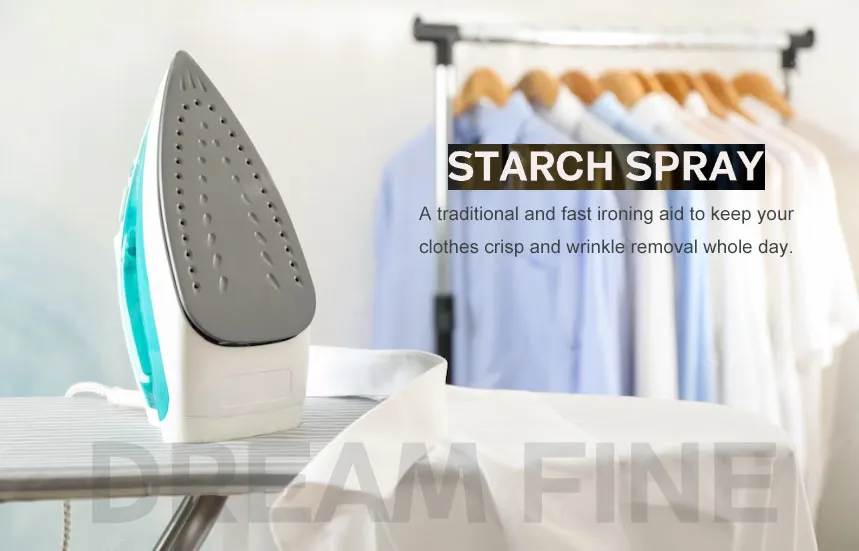 Spray starch used to be a traditional way to keep clothes in their best look, but more and more people are finding finally that simply using a home iron won't keep clothes wrinkle-free for long. Starch spray is making a comeback
Why Choose Us?
We are the leading factory for this kind of product in China with many years experience and have regular orders for it from all over the world. We are a manufacturer, not an intermediary so we could offer you a competitive price.
Caution
Store it away from fire, flammable and explosive place.
Don't spray toward the body, pest, or fire.
Don't heat the bottle
Applications
Can be used for most fabrics.
Do not use on"Dry Clean Only" labeled garments
Shaking it before and during use. Spray on the clothes evenly, and allow liquid to penetrate the fabric before ironing, so as to avoid flaking, or sticking.
Use suitable temperature dry iron and steam after spraying so as to double action wrinkle removal.
If want to improve stiffness, re-spray and iron again.
What You Could Expect From Using Spray Starch?
1. Makes Ironing Easier & Faster
Normally when using a household ironing machine, you will find it must iron repeatedly to make fabric wrinkle removal entirely, but it will take more time and make clothes ironing become a boring thing. Now with the help of spray starch, it makes iron glide smoothly and faster, no need to iron over and over again to kill wrinkles. The best way to improve living efficiency.
2. Keeps Fabric Wrinkle Free Whole Day
Compared to household ironing machines, spray starch is good at helping clothes maintain a wrinkle-removal look for a long. It makes the fabric stiff and crisp
3. Extends the life of fabric
Clothes are easy to lose their original fresh color after frequent washing or getting dirty and sweat or sweat in daily dressing. spray starch helps to extend the life of fabric by working as a barrier to prevent dirt & sweat from sticking to the fabric.
Your Best Supplier In China
DRAM FINE came into existence in 2004, our factory is located in Shanwei City, China's first batch of special economic zones and our office settles in Guangzhou city to welcome people from all around the world. With a team of professionals with rich experience in techniques and sales of chemical products, we have been a leading manufacturer and supplier of household daily chemical products. Over the years, we grew steadily with the support of old and new customers from all over the world. In this process, we place the highest priority on product quality.  Our raw materials were produced from well-reputed and certified vendors of the industry. we strictly control quality at every step and constantly improve our production capacity to ensure their highest quality and long-term cooperation relationship. We are committed to giving your family products you can trust. Now we stand proud as a reliable and trusted supplier for the African market.